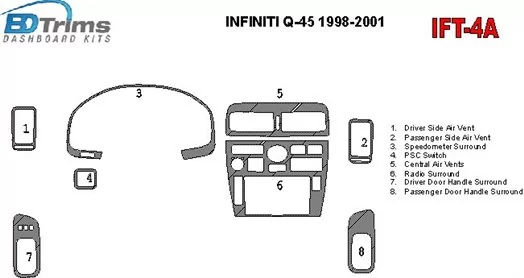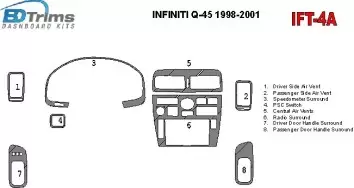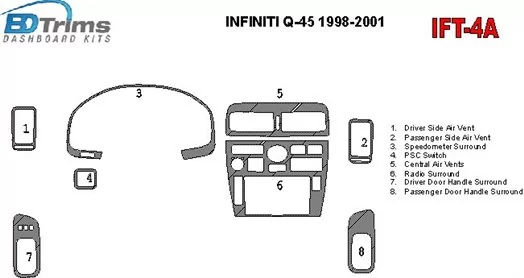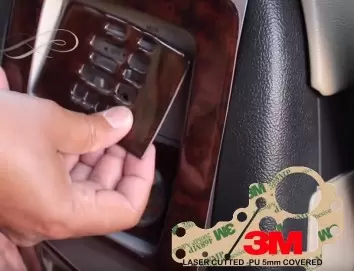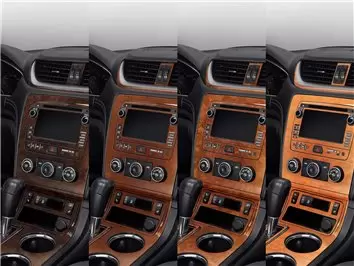 Infiniti Q45 1998-2001 OEM Compliance BD Interieur Dashboard Bekleding Volhouder
Productietijd 5-9 dagen, levertijd 1-5 dagen
Vehicle Make: Infiniti
Modell: Q45
Variante: All Models and Versions
Manufacturing Year:1998-2001
Quantity of Trim Parts: From Product Diagram
Position of Interior Customisation Part: Dash Board, Doors, Air Vents, Glove Box, Steering Wheel, Light Switch, Gear Box
3D-effect through thick material, gives a high-gloss effect, burl wood, carbon, vehicle trim Woodline, Carbon Fiber, Gloss decor de luxe top quality
Exclusieve 3D voertuiguitrusting Woodline Decor de Luxe Topkwaliteit.
Een exclusieve upgrade voor uw voertuig - chic, elegant, waardevol
20 nobele of moderne ontwerpen om uit te kiezen. Of z. Als wortelhout, mahonie, aluminium, koolstof of techno is er voor elk type iets, alles voor dezelfde prijs
3D-effect door 2,5-5 mm dik materiaal resulteert in een hoogglanseffect (gemaakt van polyurethaan PUR)
Hoogwaardige afwerking - een rond ding zonder hoeken en randen. Het oppervlak komt overeen met een 10-voudige coating met hoogglans polish
Absoluut op maat gemaakt voor het gespecificeerde voertuig, 3D High Performance Sterke acrylklevende achterkant hittebestendig en koudebestendig, flexibel en flexibel. Niet geschikt om over bestaande decoratieve bijlagen te plakken.
PU-PUR Krasvrij en splintervrij - geen risico op letsel bij ongevallen (TÜV-veiligheidscertificaat)
Snelle montage in ca. 10-15 minuten - zelfklevend zonder het gebruik van agressieve, giftige superlijm. Beste hechting gegarandeerd.
Weer verwijderbaar - geen schade aan het substraat tijdens de installatie mogelijk.
Perfect geschikt voor honderden voertuigen.
Alle sets zijn geschikt voor het opgegeven voertuig. Kies uit 20 nobele of moderne ontwerpen om uit te kiezen. Of z. Als wortelhout, mahonie, aluminium, koolstof of techno is er voor elk type iets. - alles tegen dezelfde lage prijs! Bekijk ons ​​voorbeeld in de installatie-instructies van de juiste voor-en-na foto's en beslis zelf.
Nieuw Auto interieur, bijvoorbeeld in aluminiumlook, INOX-look, chroomlook.
Cockpit PVC-foliedesign voor elke smaak. Aluminium cockpitdecor, chromen cockpit, inox Gebouwd decor
nieuwste harstechnologie - flexibele verbinding die barsten voorkomt
Hittebestendig tot 195 graden C - UV- en vlambestendig ook!
Eenvoudige montage met zelfklevende achterkant - in slechts 10 minuten
Volledige montage-instructies verstrekt
Gemakkelijk te verwijderen als u uw voertuig wilt verkopen
Niet giftig - geen schadelijke stoffen voor persoonlijke gezondheid
Uitstekende waarde voor uw auto, pick-up, bestelwagen, vrachtwagen, bus voor een uitstekende finishing touch.
Carbon Fiber Dash Kit by Cockpitdekor. Installing a dash kit from AutoDekor s.r.o. is the perfect way to make a drab standard vehicle interior inviting and attractive. The high quality, perfect fit and easy installation make it easy to create an individualized and luxurious vehicle interior.
Features:

Durable coat and attractive finish for a sleek look and unmatched UV resistance
AutoDekor dash kits are poured with advanced polyurethane clear coat and feature a brilliant high-gloss finish and beautiful domed edge. They provide incredible flexibility and ultimate UV protection.

Designed to provide an excellent factory fit
AutoDekor dash kits are meticulously engineered for a true factory fit. No sloppy edges, misaligned cutouts or parts that peel off.

Can be easily attached using strong adhesive
Durable adhesive for maximum bond-strength, built-in adhesive primer. Dash pieces can be repositioned during installation for a perfect fit.

Available in a variety of exclusive finishes
Customize your dash kit with the finest genuine and faux finishes available. Choose a high-gloss or matte top coat. You can even use your own paint-code.

Excellent finish consistency when combining several dash kits
Because AutoDekor manufactures all products in-house, when you combine a flat dash kit, molded dash kit and steering wheel, all finishes match perfectly.

Pour clear coat for a smooth and shiny look
AutoDekor pour clear coat over cutouts to allow backlit factory symbols to shine through (ie. "PWR" on a radio), creating a smooth surface & clean look.

Factory symbol printing
On select dash trim kits, AutoDekor reprint non-backlit factory symbols underneath clear coat to maintain a true factory look.

Designed to ensure a perfect factory color match
Using proprietary techniques and advanced quality control, AutoDekor produces the most accurate and consistent factory color matches available.

No Individual Part Liner
B&I flat dash parts are packaged on clear liner sheets to save you the time and trouble of picking liner off each part.

3 Years gainst manufacturer defects in material and workmanship
AutoDekor s.r.o. dash kits are backed with a limited lifetime warranty against manufacturer defects in material and workmanship.
Installation of a 3D Premium Dash Trim kit from AutoDekor transforms your plain old vehicle interior and makes it exciting and elegant. Choose trim in real or synthetic wood, real or imitated carbon fiber, metal or solid colors, to cover the areas that the manufacturer of your vehicle left bare. The AutoDekor 3D dash kits feature a 3M adhesive backing that does not require messy primer. The adhesive does not stick permanently until it has cured, which allows you to reposition components that have not been placed with the precision you desire, without creating a mess. The real wood components are made with seamless wood. Edges are laser blackened to give a smooth visual transition to the original panels behind the trim.
AutoDekor takes pride in its precise fitments. UV-Print cutouts for dashboard lights and illuminated symbols and OEM symbol printing provide a true OEM look. The AutoDekor Tru MATCH color matching technology ensures a perfect match to OEM trim and between different AutoDekor trim components. This makes it easy to match a custom trim steering wheel from B&I to both the original interior panels and custom trim dash kits, for unsurpassed consistency in materials and color of your customized interior. Chrome and logo highlights are available for selected trim kits. All materials (except real metal) are covered with a protective, scratch and UV resistant ColorDec clear coat with a gloss or matte surface.