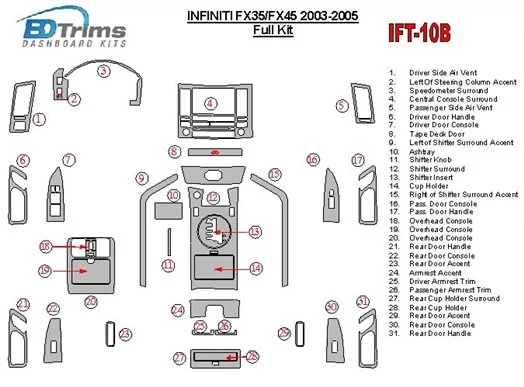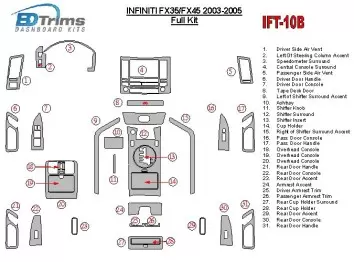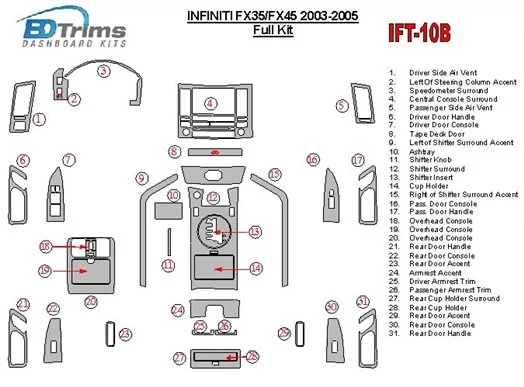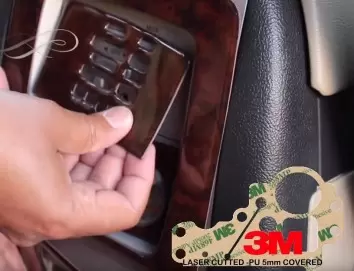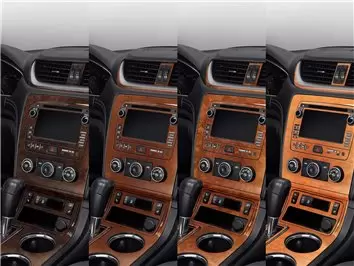 Infiniti FX 2003-2005 Full Mascherine sagomate per rivestimento cruscotti
Tempo di produzione 5-9 giorni, tempo di consegna 1-5 giorni
Marca del veicolo: Infiniti
Modello: FX
Variante: tutti i Modelloi e le versioni
Anno di produzione:2003-2005
Quantità di parti di rifinitura: dal diagramma del prodotto
Posizione della parte di personalizzazione degli interni: cruscotto, porte, prese d'aria, vano portaoggetti, volante, interruttore luci, scatola del cambio
Effetto 3D grazie al materiale spesso, conferisce un effetto molto lucido, radica di legno, carbonio, rivestimenti per veicoli Woodline, fibra di carbonio, decoro lucido de luxe qualità superiore
I Mascherine sagomate per rivestimento cruscotti. acrilico 3D ad alte prestazioni ad alte prestazioni ad alte prestazioni 200MP è una scelta popolare, e
standard del settore, per l'allegato grafico e industriale generale
applicazioni.
- Vuoi che il tuo veicolo assomigli ad un'auto di lusso? Senza costare molto!
- I kit cruscotto AUTODEKOR porteranno la tua auto in un mondo di eleganza in pochi minuti.
- Questo cruscotto assetto aggiungerà eleganza ed eleganza alla cabina del tuo camper.
- Grazie al design unico del nostro prodotto, l'effetto 3D dato è equivalente a 10 strati di vernice e l'aspetto finale è il bluff.
- L'editing è molto semplice e ti richiederà circa 15 minuti per un kit!
- Flessibile, si adatta perfettamente alle forme del cruscotto.
- Non danneggia il supporto originale
- Caratteristiche del prodotto:
- Effetto 3D per spessore del materiale di 3,5-5 mm di spessore
- Adesivo acrilico 3D ad alte prestazioni ad alte prestazioni,
poliuretano (PUR), più comunemente noto come "silicone",
- resistente alle alte e alle basse temperature,
- materiali flessibili e flessibili di qualità (sicurezza in caso di incidente: non rompere),
- infrangibile, a prova di scheggia, con bordi arrotondati,
- Facile da installare (con adesivo autoadesivo: senza colla!)
- Aspetto molto lucido (equivalente a 15 strati di vernice)
- nessun rischio di danni in caso di ritiro,
- Scelta individuale del design,
- regola il modello della tua auto,
- Colori: specie di legno pregiato, metallo, carbonio, colore brillante o al tuo ordine +++++++++
- Tutti i nostri kit di trim della plancia 3D sono tagliati al laser e progettati per adattarsi perfettamente alle parti esistenti della fabbrica.

 Temperature di esercizio -40 / +280C (Raggi UV diretti del sole)
 Eccellente resistenza chimica nominale
 Ottima resistenza al taglio per resistere allo slittamento e
Carbon Fiber Dash Kit by Cockpitdekor. Installing a dash kit from AutoDekor s.r.o. is the perfect way to make a drab standard vehicle interior inviting and attractive. The high quality, perfect fit and easy installation make it easy to create an individualized and luxurious vehicle interior.
Features:

Durable coat and attractive finish for a sleek look and unmatched UV resistance
AutoDekor dash kits are poured with advanced polyurethane clear coat and feature a brilliant high-gloss finish and beautiful domed edge. They provide incredible flexibility and ultimate UV protection.

Designed to provide an excellent factory fit
AutoDekor dash kits are meticulously engineered for a true factory fit. No sloppy edges, misaligned cutouts or parts that peel off.

Can be easily attached using strong adhesive
Durable adhesive for maximum bond-strength, built-in adhesive primer. Dash pieces can be repositioned during installation for a perfect fit.

Available in a variety of exclusive finishes
Customize your dash kit with the finest genuine and faux finishes available. Choose a high-gloss or matte top coat. You can even use your own paint-code.

Excellent finish consistency when combining several dash kits
Because AutoDekor manufactures all products in-house, when you combine a flat dash kit, molded dash kit and steering wheel, all finishes match perfectly.

Pour clear coat for a smooth and shiny look
AutoDekor pour clear coat over cutouts to allow backlit factory symbols to shine through (ie. "PWR" on a radio), creating a smooth surface & clean look.

Factory symbol printing
On select dash trim kits, AutoDekor reprint non-backlit factory symbols underneath clear coat to maintain a true factory look.

Designed to ensure a perfect factory color match
Using proprietary techniques and advanced quality control, AutoDekor produces the most accurate and consistent factory color matches available.

No Individual Part Liner
B&I flat dash parts are packaged on clear liner sheets to save you the time and trouble of picking liner off each part.

3 Years gainst manufacturer defects in material and workmanship
AutoDekor s.r.o. dash kits are backed with a limited lifetime warranty against manufacturer defects in material and workmanship.
Installation of a 3D Premium Dash Trim kit from AutoDekor transforms your plain old vehicle interior and makes it exciting and elegant. Choose trim in real or synthetic wood, real or imitated carbon fiber, metal or solid colors, to cover the areas that the manufacturer of your vehicle left bare. The AutoDekor 3D dash kits feature a 3M adhesive backing that does not require messy primer. The adhesive does not stick permanently until it has cured, which allows you to reposition components that have not been placed with the precision you desire, without creating a mess. The real wood components are made with seamless wood. Edges are laser blackened to give a smooth visual transition to the original panels behind the trim.
AutoDekor takes pride in its precise fitments. UV-Print cutouts for dashboard lights and illuminated symbols and OEM symbol printing provide a true OEM look. The AutoDekor Tru MATCH color matching technology ensures a perfect match to OEM trim and between different AutoDekor trim components. This makes it easy to match a custom trim steering wheel from B&I to both the original interior panels and custom trim dash kits, for unsurpassed consistency in materials and color of your customized interior. Chrome and logo highlights are available for selected trim kits. All materials (except real metal) are covered with a protective, scratch and UV resistant ColorDec clear coat with a gloss or matte surface.